Ah, such sweet beginnings. I loved the Stephanie Plum series in the beginning. I was a huge fan until around book 13 or so.
Have you ever had to let go of a series?
After book 19, I planned to stop reading the series with 20 if things didn't improve with Stephanie. She doesn't seem to be growing much as a character. Takedown Twenty: A Stephanie Plum Novel
(book 20) was released in November. I haven't read it yet. I don't want to walk away… so I am stalling.
Don't let my griping stop you from reading these books. They are the ones that got me hooked on the series. #PlumFun
Stephanie Plum, a brazen, feisty bounty hunter, tracks down criminals in suburban New Jersey with the help of her eccentric friends & family. – Groupon
$6.99 Janet Evanovich Stephanie Plum 3-Book Bundle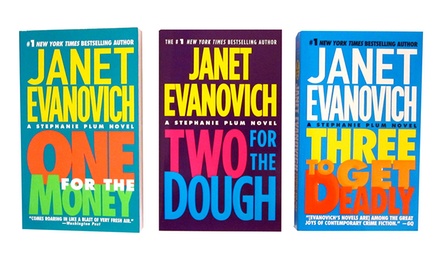 Janet Evanovich Stephanie Plum 3-Book Bundle
Bundle Contents
•One for the Money; 352 pages
•Two for the Dough; 352 pages
•Three to Get Deadly; 344 pages
"That shooting gave me an appetite. Somebody pass the potatoes." Grandma Mazur, #OneFortheMoney #PlumFun

— Janet Evanovich (@janetevanovich) February 28, 2014