Valentine's Day is around the corner…
Book Description: Most everyone has been, or will be, one half of a budding romantic relationship at least once—but not everyone knows how to successfully navigate those first-date butterflies, the potentially steamy bedroom scenes, and the ever-feared crushing moments of betrayal. 11 Points Guide to Hooking Up serves as a manual to dating, relationships, and sex—and is a wildly entertaining read for people who are single, taken, young, old, gay, straight, or anywhere in between. Creator Sam Greenspan blends his quirky humor, attuned sense of popular culture, and entertaining approach to produce thought-provoking lists about the ins and outs of dating. Prepare to take notes and laugh out loud with 11 Points Guide to Hooking Up.
11 Points Guide to Hooking Up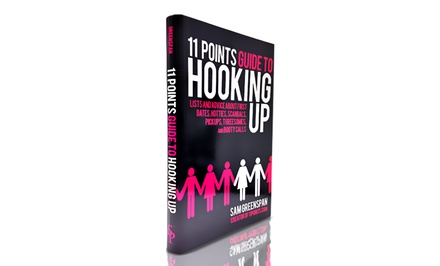 Manual to dating, relationships, and sex
Humorous 11-point lists
Advice on relationships both serious and casual
Perfect for those reticent to make the first move
Inspired by popular website 11Points.com
Check out reviews of 11 Points Guide to Hooking Up: Lists and Advice about First Dates, Hotties, Scandals, Pick-ups, Threesomes, and Booty Calls on Goodreads and Shelfari.
Groupon's discounts are bigger than a dinosaur on a stepladder. You and Groupon both like doing the coolest things, you both like saving 50-90%, and you both look great in green. And if you click my referral link and then buy a deal, I might even receive a referral credit!  
Check out Groupon and sign up for their daily deals today!