Did I mention that I like to read cookbooks? Well, I do.
This Dutch Oven 4-Cookbook Bundle reminded me of D.O.G.s and the Cooking Up A Story video below. A Dutch Oven Gathering (D.O.G.) is a gathering of people that enjoy cooking in cast iron ovens known as Dutch ovens. The 2013 National Dutch Oven Gathering took place last month. I'd like to attend a gathering in the future. I bet the food is amazing.
At home, I like to make soups and stews in a Dutch oven. I haven't tried baking in one yet. These cookbooks make me want to step up my game.
Do you like to cook with a Dutch oven?
Have you ever attended a Dutch Oven Gathering?
$34.99
Dutch Oven 4-Cookbook Bundle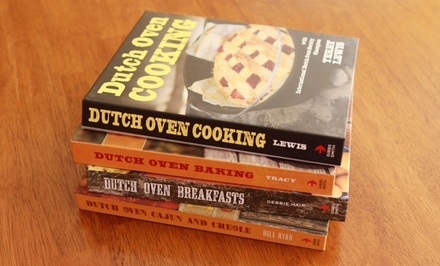 Dutch Oven 4-Cookbook Bundle. Free Shipping.
Dutch Oven Baking
Dutch Oven Breakfasts
Dutch Oven Cajun & Creole
Dutch Oven Cooking
Groupon's discounts are bigger than a dinosaur on a stepladder. You and Groupon both like doing the coolest things, you both like saving 50-90%, and you both look great in green. And if you click my link and buy a deal, I might even receive a referral credit!  
Check out Groupon and sign up for their daily deals today!
Cooking Up A Story: Dutch Oven Gathering: Dog Gone Good! (Season 1 | Episode 10)
Cookout at a Dutch Oven Gathering. It's a D.O.G., and if you have never been to one before, you're in for a treat.